Marquis Health Services Sites
>
Westgate Hills Rehabilitation and Healthcare Center
>
Press Releases
>
Westgate  Hills Rehabilitation & Healthcare Center Enhances Cardio Pulmonary Care Program
Westgate  Hills Rehabilitation & Healthcare Center Enhances Cardio Pulmonary Care Program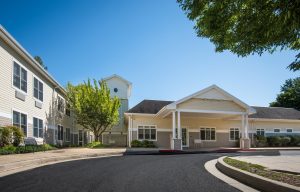 Pulmonologist Dr. Mark Gosnell Joins Cardiologist Dr. Athol Morgan in Leading Initiative at Baltimore Skilled Nursing Facility
BALTIMORE, Md., Aug. 6, 2020 –  Westgate Hills Rehabilitation & Healthcare Center has enhanced its Cardio Pulmonary Care Program designed to meet the healthcare needs of area residents. Pulmonologist Dr. Mark Gosnell is joining cardiologist Dr. Athol Morgan in overseeing the initiative at the 120-bed skilled nursing facility in Baltimore.
The comprehensive Cardio Pulmonary Care Program at Westgate Hills aims to promote independence and quality of life through reducing symptoms and decreasing disability in heart and lung patients, while increasing their participation in physical and social activities. Services are tailored for individuals with congestive heart failure, chronic obstructive pulmonary disease, post heart and lung transplants, emphysema, acute myocardial infarctions and acute respiratory failure, among other diagnoses.
Dr. Gosnell is board certified in critical care and pulmonary medicine, and is the director of intensive care and chief of pulmonary at MedStar Harbor Hospital, regularly teaching respiratory physiology to residents. He maintains a practice in Glen Burnie, Md., and is a Diplomate of the American Board of Sleep Medicine.
Dr. Morgan is board certified in internal medicine and cardiovascular disease. His affiliations include LifeBridge Health System, Sinai Hospital and Grace Medical Center, and he serves as the CEO/Medical Director of One Heart LLC, The Cardiology Specialists. The American Heart Association recently honored Dr. Morgan with its Watkins-Saunders Award, which recognizes individuals and/or organizations who are committed to equality in health care.
In addition to consults with Dr. Morgan, Dr. Gosnell and other board-certified specialists, Westgate Hills heart and lung patients benefit from certified nurses on staff, seven days per week therapy services as prescribed, 24/7 access to lab and radiology services, and a range of additional services and therapies. Those include non-invasive ventilation support, tracheostomy care and management, a wide range of oxygen therapies and nebulizer therapies, as well as IV Lasix and Intotrope Infusions.
"Westgate Hills is pleased to have Dr. Gosnell join Dr. Morgan in leading the Cardio Pulmonary Care Program," said Nikki Gachot, regional director of business development at Marquis Health Services, which provides nursing home consulting services for the facility. "Both are well-respected in their areas of medical expertise, and we congratulate Dr. Morgan on receiving the prestigious award from the American Heart Association. Dr. Morgan and Dr. Gosnell will work together with Westgate Hills' dedicated clinical team in providing a comprehensive approach to healthcare and disease management for heart and lung patients."
Located at 10 North Rock Glen Road, Westgate Hills Rehabilitation & Healthcare Center provides post-hospital care, short-term rehab and long-term residential care. The facility features an expansive state-of-the-art rehab gym, an activities of daily living (ADL) practice suite with kitchen, and a transitional sub-acute suite. As part of its programming, Westgate Hills offers education and training for patients and family members, and coordination of home care services – including Marquis' CARE NAVIGATION™ program. The facility also offers 24/7 admissions direct from the emergency room.
Based in Brick, N.J., Marquis Health Services is a highly skilled and vision-driven nursing home consulting company currently supporting Mid-Atlantic and New England facilities totaling nearly 4,500 skilled nursing and assisted living beds.