The clinical professionals at Westgate Hills are trained to provide specialized care and services to patients with Chronic Kidney Disease and related diagnoses.
Preserving kidney function and preventing further decline are the primary objectives of our Chronic Kidney Disease Management program. When caught early it is possible to slow, stop or even reverse CKD depending on the cause.
Reduce CKD Symptoms
Decrease Disability
Increase Quality of Life
Promote Independence
Services Include:
On-site Hemodialysis provided by Concerto
On-site Cardiology & Pulmonary Rounding
Full-time Respiratory Therapist
Health Coaching
Dietary Education
Routine Medical Management of Associated Co-Morbidities
Case Management Services
Meet Our New Director Of Nephrology & CKD Program Director: Youssef Hokayem, MD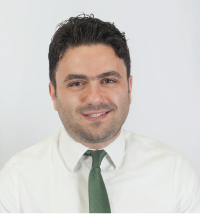 Dr. Hokayem attended medical school at the Lebanese University of Beirut and graduated in July 2008. He completed a year of internal medicine in Lebanon before he joined Union Memorial Hospital where he completed his residency in internal medicine and received the Best Resident Award in June 2012. he completed his Fellowship training in clinical nephrology at John Hopkins University, School of Medicine, Baltimore, Maryland in June 2014. Dr. Hokayem was the Medical Director of the Nephrology department and pioneer in applying techniques of Home hemodialysis at the bedside in nursing home settings prior to joining, as part-time, Washington Nephrology in August 2016. Since November 2017, he joined as a full-time nephrologist and is currently covering Good Samaritan Hospital in Baltimore, Maryland.
He believes Nephrology is a "Chef-d'oeuvre" (Masterpiece) if medicine is the art of communicating between human well-being and the sciences.
Through treatment and education, our clinical team of professionals assists patients in a better understanding of their conditions, enabling them to enjoy a greater level of independence and improved quality of life.
For more information about our Chronic Kidney Disease Program, please call (410) 646-2100.