Meet Dr. Laura Mulhall this World Mental Health Day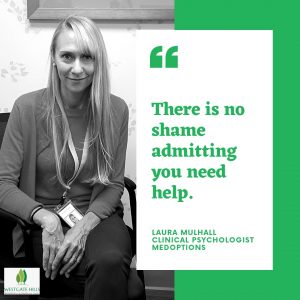 Please meet Dr. Laura Mulhall, Clinical Psychologist through MedOptions at Westgate Hills Rehab.
Dr. Mulhall meets one-on-one with our residents throughout their stay at rehab.
"I love working at Westgate – everyone has been so friendly and supportive, the care is really good. All of the residents are quite happy with the care. The environment is friendly and supportive, I love the engagement of the Activities department with our residents."
When asked why she went into the field of mental health, she responds: "I had really supportive family life and saw how hard it was for people who were not so fortunate. I want to give back and help others around me."
You'd be surprised to know Dr. Mulhall is very quiet by nature, yet she works all day talking with people! In her spare time she enjoys photography and music.
Her parting words on World Mental Health Day – "No one is immune from life's struggles, we should not have any shame in admitting we need help. There is no shame in being proud of getting better".