Spotlight Saturday at Westgate Hills Features: Karen Mancini!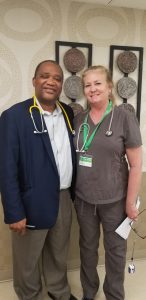 We invite you to get to know our Respiratory Therapist, Karen Mancini, more by reading her interview below:
1. What do you like most about Westgate Hills?

A. I love to work with patients and to be a part of their progress.
2. What have you gained from working at Westgate Hills?

A. I enjoy the close-knit family type of camaraderie with my co-workers.
3. What is your proudest moment at Westgate Hills?

A. Weaning trach patients off of their trachs. To see that smile!
4. How long have you been and what is your role at Westgate Hills?

A. I started at Westgate in April 2019 as the Pulmonary rehab Program manager. I have been a respiratory therapist for 31 years (even though I'm only 44 years old).
5. Tell us something about yourself that would surprise us.

A. Are you sitting down? I used to be a tap dance instructor for years.
6. Where did you go to college, do you have a degree?

A. AAS degree in Respiratory Therapy in Virginia Beach.
7. Three words to best describe you:

A. Cheerful, Honest, Silly. (Usually hungry.) JK
8. Top two life highlights:

A. My 2 amazing boys.
9. What is on your bucket list?

A. To stay in one of those resort huts that's right above the water in Fiji with Bradley Cooper… Did I go too far?
10. What do you do in your spare time?

A. Spending time with my adorable dog Paco and cooking and relaxing on the beach.
11. What is the first thing you would buy if you won the lottery?

A. Pay off all bills, donate to ASPCA, and book a hut in Fiji (with Bradley Cooper).