Spotlight Saturday – Meet George Wiredu, Unit Manager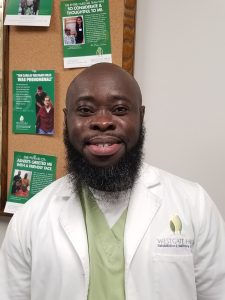 For today's Spotlight Saturday we would like you to meet George Wiredu! Growing from his position as a floor nurse to Unit manager of our long term care unit, George has now been at Westgate Hills for the past 5 years.
George is welcoming, compassionate and super fun to be around. You'd be surprised to know he is a certified cyber security analyst, but chose to stick to the nursing field, because in his words, " I love providing care to my residents." George adds, "the most meaningful moments are when I receive feedback from patients and their families, it reminds me what an impact I have each day."
In his spare time, George loves to cook and play football. George has gained a lot from working at Westgate and says that the support he feels from his coworkers is important, contributing to the satisfaction he receives from his daily work.