Spotlight Saturday – Meet Mr. Marlin Austin, Assistant Dir. of Maintenance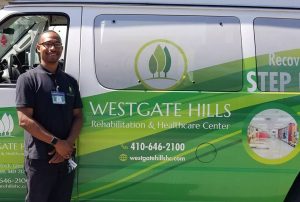 We are pleased to introduce, Marlin Austin! Marlin began working at Westgate last October. His positive, genuine and energetic nature help to create the friendly and warm atmosphere within our facility.
As he puts it, "I love the fact that I'm able to work in a place where I can bring a smile to so many residents who are dealing with adapting to a different environment." He says his proudest moment was "being promoted from a part-time floor tech to full-time Assistant Director of Maintenance."
Marlin graduated from Baltimore City Community College with an Associate's Degree in Human Services. Something that may surprise you, Marlin has been skydiving and participates in a Spartan race each year! Marlin lives in the beautiful city of Baltimore, married to his middle school sweetheart and their 3 adorable children.
To see our current career opportunities, please visit our Careers Page: Click Here