Spotlight Saturday – Meet Tiffany Barnes-Johnson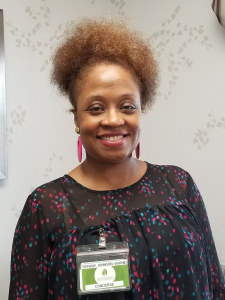 Meet Tiffany who joined the Westgate Hills Team as our Concierge this past November. At a job which is telling of her caring and kind nature, Tiffany devotes her days to ensuring the satisfaction and comfort of the lovely residents at Westgate Hills. With our residents, their families and their happiness always first and foremost on her mind, Tiffany is the go-to person for any matter that needs attention. Whether it be providing magazines, an extra pillow or resolving an issue, Tiffany is always there, able and willing to help. No problem is too big or too small for our wonderful customer service concierge and you can be sure concerns will be addressed with a genuine smile.
Tiffany is a Mom to a beautiful seventeen-year-old daughter. In her spare time, she co-hosts a radio show which gives her a way to express what she calls her hidden talent – motivational speaking. She loves getting out and networking and dreams of traveling the world with her family. Tiffany tells us, "My life has changed in a significant way since joining the Westgate Hills team".
To learn more about current Career Opportunities here at Westgate Hills please visit https://westgatehillshc.com/careers #CaringCareers