Spotlight Saturday – Sandy Harvin, Social Worker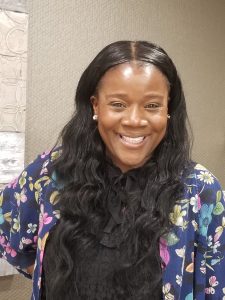 Sandy Harvin is one of our devoted Social Workers here at Westgate Hills. A Baltimore native, she has been a dedicated employee here for almost a decade. She loves the residents' determination to live the best quality of life they can. She has found that treating the residents with the utmost dignity and respect not only helps them have the most positive experience, but also proves to be very self-fulfilling. She appreciates the opportunity afforded by working in Westgate Hills to provide good quality care and compassion to those who are very much in need.
She started to pursue her degree in Social Work in 2003 at Coppin State, and is now finishing her BS degree in Business at Strayer University, where she aims to graduate in September of 2019. She loves ballet, and is a talented dancer herself. Funny, determined and energetic, she loves spending time with her family, and enjoys exercise and going for a massage. She'd love to meet Michelle Obama and Ellen Degeneres if given the chance. Her favorite thing to do in Baltimore is stroll through the Inner Harbor. As another example of her giving nature, if she won the lottery she would like to open a center for the homeless. Her top travel destination has been Jamaica, but nothing is as special to her as her children and grandchildren.
To see our current career opportunities please visit our Careers Page.